wireless 433mhz remote control with leather belt for Garage
Product Detail
Product Tags
| | |
| --- | --- |
| Working voltage: | DC3V |
| Control distance: | 10-50m |
| load power: | 1.1kW |
| Control Type: | Remote Control |
| Control order number: | 042KB/433NHz |
| Working current: | 10A Transmitting power:≤10dBm |
| Encoding method: | fixed encoding |
| Security code: | 32 bits (4.3 billion groups) |
| Receiver sensitivity: | - 110dBm |
| Control cable length: | 1.3m |
| Transmitter Control Point: | RF Wireless Radio Frequency |
| Transmitter function button: | off, unlock, stop |
| Number  of  compatible  remote  controls: | Multiple transmitters and one  receiver built-in |
| Accessories: | switching power supply |
| Adapter battery: | 27A12V |
| Working temperature: | -20~60C |
| Wiring method: | 1 in 4 out |
| Protection class: | IP65 |
| Installation method: | handheld |
| Dimensions:  | 34*10*56 |
| Installation size: | 34*10*56 |
| Colour:  | Black |
| Weight:  | 120g |
Step 1: New remote control "clear code" operation
Press and hold the unlock and lock buttons at the same time (some remotes use up and down buttons)
The LED indicator flashes 3 times, release any key that was pressed, and keep the other one,
Click the released button three times, the LED light will enter the fast flashing state, and all the memory of the remote control has been cleared.
Press them at the same time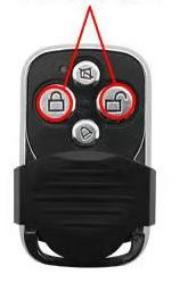 Notice:
1. Do not clear the code on the original remote control.
2. The indicator light should keep flashing and then let go, not let go after flashing once,
3. If the button does not keep flashing after being pressed for a long time, it means that the two buttons have not been pressed by a colleague. Please repeat the above code clearing operation.
Step 2: Remote control copy operation
1. Hold the original remote control in one hand, and the copy remote control in the other. The two remote controls are as close as possible, and press the button that needs to be copied respectively. The LED light flashes three times and then flashes quickly, indicating that the copying is successful.
2. Refer to step 1 for other keys.
3. For some remote controls with low power, they should be operated back-to-back with the original remote control.
4. Avoid the environment with interference, so as not to affect the copying.
5. If the copy cannot be successful, copy it again after clearing the code.
6. The  most  important  point, the original  remote control  must work  properly and must have the same frequency as our copy remote control.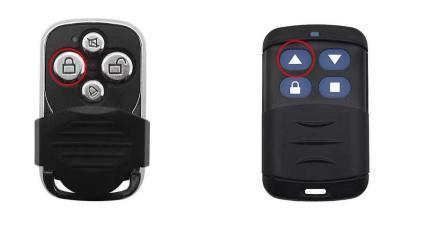 The four  buttons can copy four different types of chips  respectively, which  means that our remote control can copy four different devices, and the frequency can be from 270mhz-434mhz.
The copying speed is fast, it is not easy to lose codes, and the distance is long.
---
Next:
Smart tv ir remote control customized tv box voice remote control for smart tv 44 button or 48 keys ble voice remote control
---
Write your message here and send it to us