Multi-function BLE V5.0 steering wheel remote control music playback control
Product Detail
Product Tags
1. Small and exquisite, can be carried with you;
2. Mobile phone control: answer the call, hang up the call, previous song, next song, pause playback, volume up, volume down;
3. Can use car music control, bicycle music control, motorcycle bicycle control, skiing;
4. The product does not occupy the Bluetooth channel. After the mobile phone is paired with the product, another Bluetooth product (such as Bluetooth headset, Bluetooth audio, car DVD Bluetooth) can be paired to control the phone to listen to music and answer and hang up the phone. The sound is through the paired other Bluetooth products Vocalize;
5. IPX4 waterproof level;
6. Bluetooth 5.0;
7. Battery capacity: 200 mA.
The Bluetooth Hands-free Button puts media control and Hands-free calling at your ngertips with a single press of a button. Attach the button to your steering wheel or dashboard to safely and conveniently control the functions even when your smartphone is out of reach.
Answer/Hang up, play/pause, forward/backtrack, and adjust volume even while your phone is in your pocket, purse, plugged into the wall, or elsewhere up to 40 feet away!
Compatibility
Apple iOS devices supporting Bluetooth 3.0 and later;
Android devices that support OS 4.0 or later.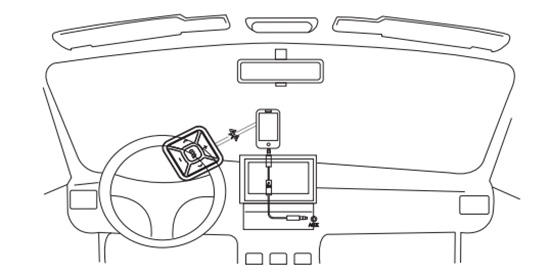 Use the included mount to attach the BT Button to your steering wheel or onto bicycle handlebars, allowing you to keep your eyes on the road and your hands on the wheel. You can plug the Microphone Audio cable into your Car stereo for hands-free talking.

Bluetooth Connection
1. Make sure your phone or tablet Bluetooth is "On".
2. Check for "BT009" on the list of detected devices.
3. Select "BT009" and wait for the pop up menu.
4. Tap the "Pair" button on the pop up menu.
Hands-free Calling
When there is an incoming call, you can connect your phone or tablet to the car stereo with Microphone Audio cable, then press key to answer or hang up the call when driving.
Using Multimedia Functions
1. Open native audio or video apps.
2. To play/pause.
3. Adjust volume and skip tracks.
Specications:
| | |
| --- | --- |
| | |
| | |
| | |
| | ≤10M |
| | |
| | |
| | |
| | |
Troubleshooting:
1.Re-pair after disconnection
a. When Bluetooth disconnect, simply long press key and a Green
LED will start to blink.This shows the re-connection between your phone and the Button.
2. Unable to control button
a.Manually press "play" in the media app you wish to use, then retry the button functions.
b.Try deleting and re-pairing the button, as described above.
3. Unable to pair
a. Check the Bluetooth Button is switched on not disconnect.
Accessories:
Bluetooth Hands-free Button
Bracket 3M Sticker(White side paste on car)
Microphone Audio Cable
Micro USB Cable
User Manual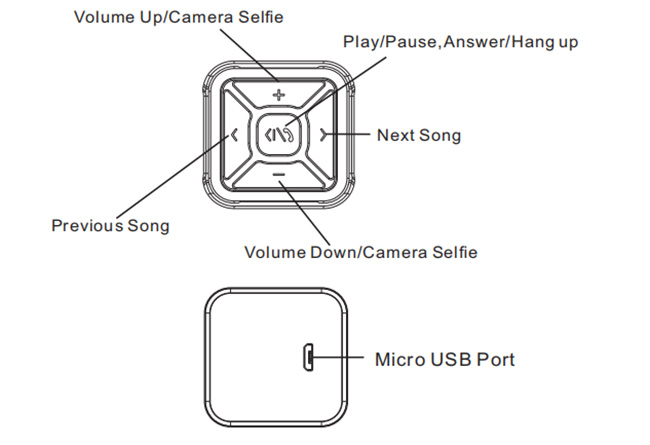 ---
---
Write your message here and send it to us